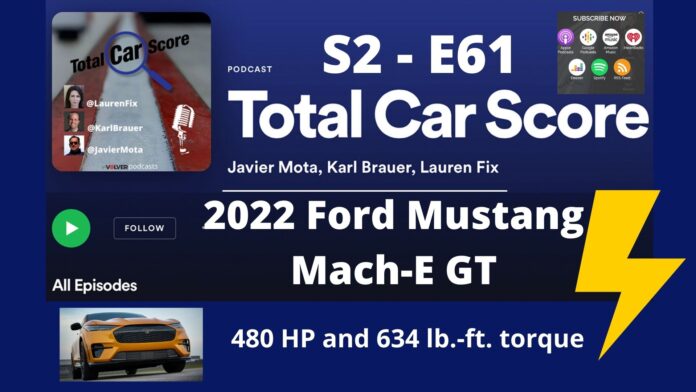 In this episode, we travel to San Francisco to test drive the 2022 Ford Mustang Mach-E GT and to talk Vehicle Program Director of Future Electric Vehicles, to Dave Pericak, about the electric version of the classic Pony Car, which is capable of a 0-60 mph time in 3.8 seconds, making it faster off the line than a Porsche Macan Turbo.
The GT Performance Edition, meanwhile, is targeting a comparable 0-60 mph in 3.5-seconds to a Porsche 911 GTS.
Both GT configurations are targeting an estimated 358 kW (480 horsepower) with GT targeting 600 lb.-ft torque and GT Performance Edition targeting 634 lb.-ft. torque.
Listen and subscribe here
About Total Car Score Podcast  
The Total Car Score Podcast is part of the reVolver Podcasts Network, the leading multicultural, audio-on-demand content creator and distributor in the U.S., which reaches over 3.5 million listeners a month utilizing Apple Podcasts, Spotify, IHeart Radio App, Google Podcasts, Amazon Music and Deezer.
The network includes more than 70 programs spanning from automotive, sports, music, finance, entertainment, lifestyle, health and wellness, inspiration, news, branded content and live events.