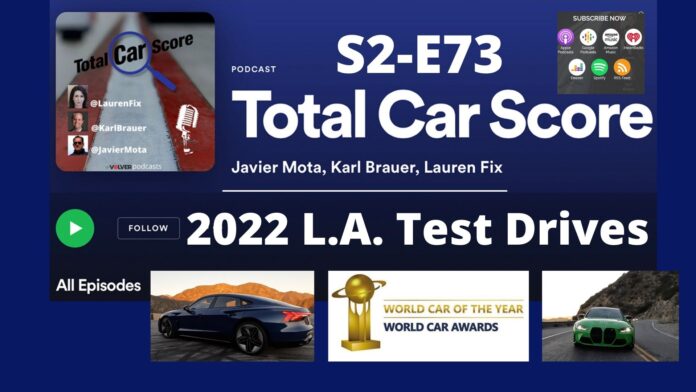 In this episode we travel to Pasadena, California for the 7th. edition of the World Car of the Year L.A. Test Drives and talk to a panel of jurors about the most trending topic in the automotive industry worldwide; internal combustion engine cars vs. electric cars.
We also share details about the Road of the 2022 World Car Awards, which will end with the celebration of the winners at the New York International Auto Show when six category winners will be announced on April 13, 2022.
Listen here
About Total Car Score Podcast  
The Total Car Score Podcast is part of the reVolver Podcasts Network, the leading multicultural, audio-on-demand content creator and distributor in the U.S., which reaches over 3.5 million listeners a month utilizing Apple Podcasts, Spotify, IHeart Radio App, Google Podcasts, Amazon Music and Deezer.
The network includes more than 70 programs spanning from automotive, sports, music, finance, entertainment, lifestyle, health and wellness, inspiration, news, branded content and live events.