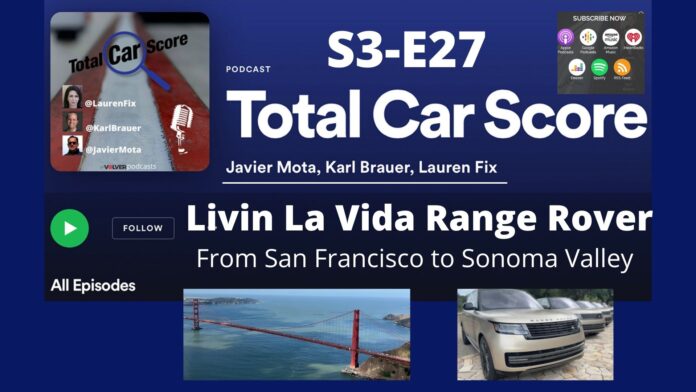 In this episode we share an ultra luxury experience with Paul Strauss from The Awesomer.com and the new 2022 Range Rover, the original luxury SUV that has led by example for 50 years, combining serene comfort and composure with incredible capability. We fly on helicopters, drink the best wines of Sonoma Valley and visit a couple of 5 Star Hotels.
Listen here
About Total Car Score Podcast  
The Total Car Score Podcast is part of the reVolver Podcasts Network, the leading multicultural, audio-on-demand content creator and distributor in the U.S., which reaches over 3.5 million listeners a month utilizing Apple Podcasts, Spotify, IHeart Radio App, Google Podcasts, Amazon Music and Deezer.
The network includes more than 70 programs spanning from automotive, sports, music, finance, entertainment, lifestyle, health and wellness, inspiration, news, branded content and live events.