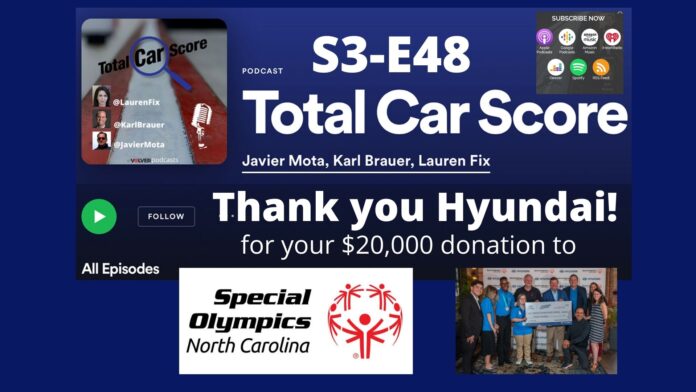 In this episode we celebrate that Hyundai Motor America and Hyundai of Asheville recently donated a total of $20,000 to the Special Olympics North Carolina, an organization that uses the transformative power of sports to improve the lives of children and adults with intellectualdisabilities. A ceremonial check was presented in Asheville, North Carolina.
Listen here
About Total Car Score Podcast  
The Total Car Score Podcast is part of the reVolver Podcasts Network, the leading multicultural, audio-on-demand content creator and distributor in the U.S., which reaches over 3.5 million listeners a month utilizing Apple Podcasts, Spotify, IHeart Radio App, Google Podcasts, Amazon Music and Deezer.
The network includes more than 70 programs spanning from automotive, sports, music, finance, entertainment, lifestyle, health and wellness, inspiration, news, branded content and live events.